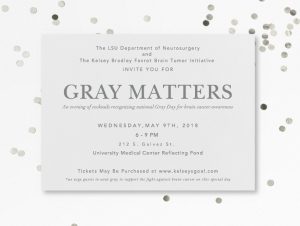 MAY 9: GRAY MATTERS FUNDRAISER TO SUPPORT BRAIN CANCER TREATMENT RESOURCES IN NEW ORLEANS
New Orleans has made great strides towards improving care for local residents battling brain cancer, with fewer patients having to leave town now for care.
The Department of Neurosurgery at LSU Health New Orleans School of Medicine hosted a fundraiser to expand its brain cancer treatment resources on Wednesday, May 9 with a fundraising party, "Gray Matters."   May 9  is national "Gray "Day" to raise awareness of brain cancer.
Gray Matters benefits the Kelsey Favrot Brain Tumor Initiative at LSU Neurosurgery. The Brain Tumor Initiative supports the treatment and research of brain cancer in New Orleans so that patients do not have to leave town to receive care. As a result of awareness efforts, the city's only neuro-oncologist was recruited to New Orleans and University Medical Center is equipped with the state's only Intraoperative MRI.
Emceed by WDSU TV Reporter Travers Mackel, a presentation to over 200 guests included remarks by neuro-oncologist Aaron Mammoser, MD.  Dr. Mammoser has been seeing patients and conducting research at LSU for two years now as part of the Favrot professorship.
The Brain Tumor Initiative is named in memory of the late Kelsey Bradley Favrot, who succumbed to brain cancer in 2009. Before her death, she expressed concern for those brain cancer patients unable to travel out of state, whether constrained by their illness or financial considerations. With characteristic determination, Kelsey began to explore ways to assist those who would face a brain cancer diagnosis in the future.