ARTIST ROBINETTE SENDS GOOD JUJU TO LSU NEURO-ONCOLOGY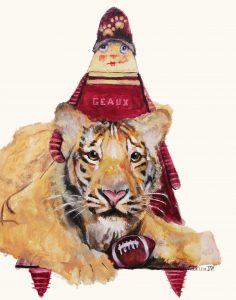 A "Bayou Bengal" will bring some good juju to the Department of Neurosurgery at LSU Health Sciences Center New Orleans as it raises funds to attract a much needed pediatric neuro-oncologist to New Orleans.   Artist Garland Robinette has generously donated proceeds from sales of the print versions of the Bayou Bengal, the latest work in his new Juju Doll series, in conjunction with the upcoming Kelsey Bradley Favrot Memorial 5K Run/Walk on Oct. 7 in Audubon Park.
Robinette says his Juju creations bring good luck and he hopes to bestow good will toward the effort.  "According to my French-speaking mother, a good deed brings good juju and I hope we can generate some big, tiger-sized juju towards the goal of raising enough funds to bring a pediatric neuro-oncologist to our city.  The Bayou Bengal print is 11" x 14" and available at robinettestudios.com for $95. Canvas prints are $350 plus shipping.
Kelsey Bradley Favrot died of a brain tumor in 2009. Her family has worked tirelessly to fulfill her dying wish: that New Orleans have the same level of neuro-oncology care as major medical centers so patients do not have to travel out of town for treatment.   The Kelsey Bradley Favrot Memorial 5k Run/Walk supports the LSU Brain Tumor Initiative, which recruited a neuro-oncologist to New Orleans two years ago.  It is now raising funds to bring a pediatric neuro-oncologist to treat the youngest members of our community battling brain cancer.  The third annual fundraising 5k is Sunday, Oct. 7 at Audubon Park Shelter #10 in New Orleans.  
"Childhood brain tumors are very different than their adult counterparts and a young brain responds much differently to neuro-oncology treatment than the brain of an adult.  It takes a tremendous toll on any cancer patient to have to travel and when the patient is a child, it is a hardship for the child, their parents and their family," said Dr. Aaron Mammoser, the Kelsey Bradley Favrot Chair in Neuro-Oncology at LSU Health New Orleans School of Medicine's Department of Neurosurgery
To address this void in our medical community, Dr. Mammoser will lead a recruiting effort to hire a pediatric neuro-oncologist.  All proceeds from Kelsey's race will go toward this effort, further honoring Kelsey's wish that patients receive quality care in the city so they don't have to travel out of town. 
Thanks to fundraising efforts like Kelsey's race, Dr. Mammoser has been treating brain cancer patients at LSU Health New Orleans for over two years.   
 Race Information: 
8:00 Kids Run, half-mile 
8:30 Adults Run / Walk 
9:30-11:00 Live music, refreshments, award presentation 
Entry fees: $30 pre-registration; $35 race day; $15 for youths and seniors;  special $10 fee for youths does not include t-shirt. Save $5.00 on registration fees by creating a group or team.  Online registration and donations:  kelseysgoal.com.